Parker at Somerset published in Environments for Aging Spring 2023 Issue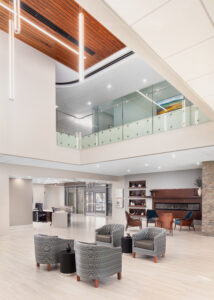 Spiezle's project, Parker at Somerset, has been featured in Environments for Aging's Spring 2023 issue as part of the magazine's annual Design Showcase. Parker at Somerset is a 75,000-square-foot, three-story, 120-bed post-acute rehabilitation and skilled nursing home. The project aimed to right-size and transform the existing community into a modern facility to better accommodate patients/residents. MDP Design collaborated on the interior design.
The facility was designed to meet and support the spiritual, physical, social, and psychological needs of residents. Spaces added include a café, state-of-the-art therapy suite and gym, an adult day care, and child day care to support staff and intergenerational programming.
Spiezle's design emphasized a small-home neighborhood model, connecting communal spaces with living, dining, and activity areas to encourage socialization. The project was completed in December 2021 and has significantly enhanced resident and staff quality of life standards, increasing morale and interactivity.
To see the feature, click here .