Solar Can Be a Job-Creating Engine for the Economy in New Jersey
New Jersey is not a coal state (thank goodness). Nor are we a significant steel producing state. The promise of bringing back coal and steel jobs does not help our economy all that much. We are, surprisingly a robust solar state, and this could well be a good source of jobs if the new administration gets it right.
The green economy continues to outpace other sectors of the energy economy in job creation. Bloomberg News reported that the number of jobs in solar energy overtook those in oil, gas and coal extraction in the U.S. for the first time last year. The Solar Foundation's 2015 National Solar Jobs Census indicates there are over 209,000 solar workers nationally, and U.S. solar jobs grew 12 times faster than overall job creation in 2015. The reason why? Renewable Energy is a growing and job-creating sector of the economy, the oil, gas and coal industries are not.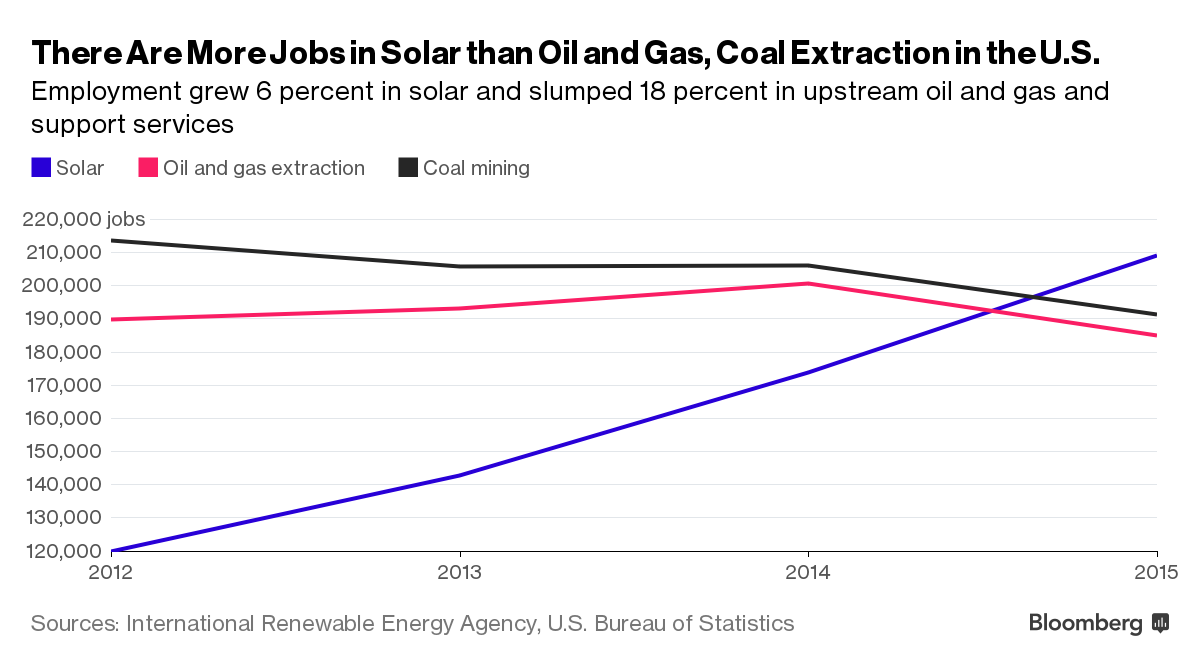 The low-carbon economy is being driven by technological advance, declining energy technology costs, and enabling public policy at the local, state and national level. It is also being driven in no small part by responsible corporate policy that understands the business advantage of participating in the low-carbon economy. New Jersey could be a leader with the right policy framework in place.
Let's do the numbers: according to the Solar Energy Industry Association 7,071 people are employed in solar jobs statewide. The average salary is $45,000, equal to the average factory worker salary in New Jersey, and 10% better than the average construction salary that clocks in at $41,000.
Terms can be deceiving, especially as people question what it means to be middle class in this day and age. So let's be more specific; $45,000 is considered a working class salary in New Jersey, but a two-income family can easily earn between $55,000 and $85,000 which is the household income range to be considered middle class. $45,000 is a far cry better than $27,000 which is the average salary for retail and food service work.
Who is hiring? There are 480 solar companies listed in the State; some national, many are New Jersey based. What skills are needed? Solar installers need to be certified by the North American Board of Certified Energy Practitioners (NABCEP). Schools such as Ecotech Training provide solar energy training classes that prepare you for certification. Is there work out there? What we are seeing is that interest in solar in New Jersey is strong. Many of our school clients are exploring rooftop solar as part of their capital renovation planning and the State Department of Education supports solar as an energy efficiency strategy for school districts. As I highlighted in a recent post; declining costs for solar installation and improved efficiency of equipment is putting solar on par with the cost of traditional power generation. For existing buildings, solar is now a cost-effective energy conservation measure.
We are beginning to explore for our more progressive clients how to combine low-energy building envelopes with high performance systems and renewable energy production to create net-zero energy buildings. Increasingly solar PV is being integrated into building design from the very beginning. It's an exciting time, and a great time to be part of the green economy.
Demand for renewable energy is driving the solar and wind industries like never before. Investment in renewable energy and technology continues to outpace other energy investment. These are long-term trends that will outlast any current political cycle. New Jersey has many good policies in place that drive demand for renewable energy. It is ranked 4th in the country for total capacity installed capacity with room to grow.
There is no need to look backward to find jobs when they exist right here in a growing green economy. We can create demand for jobs based new skills, new technology, new opportunities, all fueled by the sun.