Spiezle receives Above & Beyond Award from NJASBO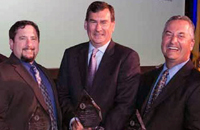 The New Jersey Association of School Business Officials recognized Spiezle Architectural Group, and in particular Steven Siegel, with their Above & Beyond Award – Honorable Mention at their recent conference. The article describing Spiezle's receipt of the award is within Keypost, Summer 2014 edition.
Spiezle Architectural Group, Inc. and Steven Siegel, AIA, LEEDap for "epitomizing what quality of service means," according to Dennis DeMarino, Business Administrator/Board Secretary, Woodbridge Township School District. "As you are aware, public school districts operate with limited resources, having a firm like Spiezle that can help identify and problem-solve in constructive ways, without always requiring compensation is unheard of, and much appreciated," says DeMarino.