Spiezle Expands Senior Living Design Team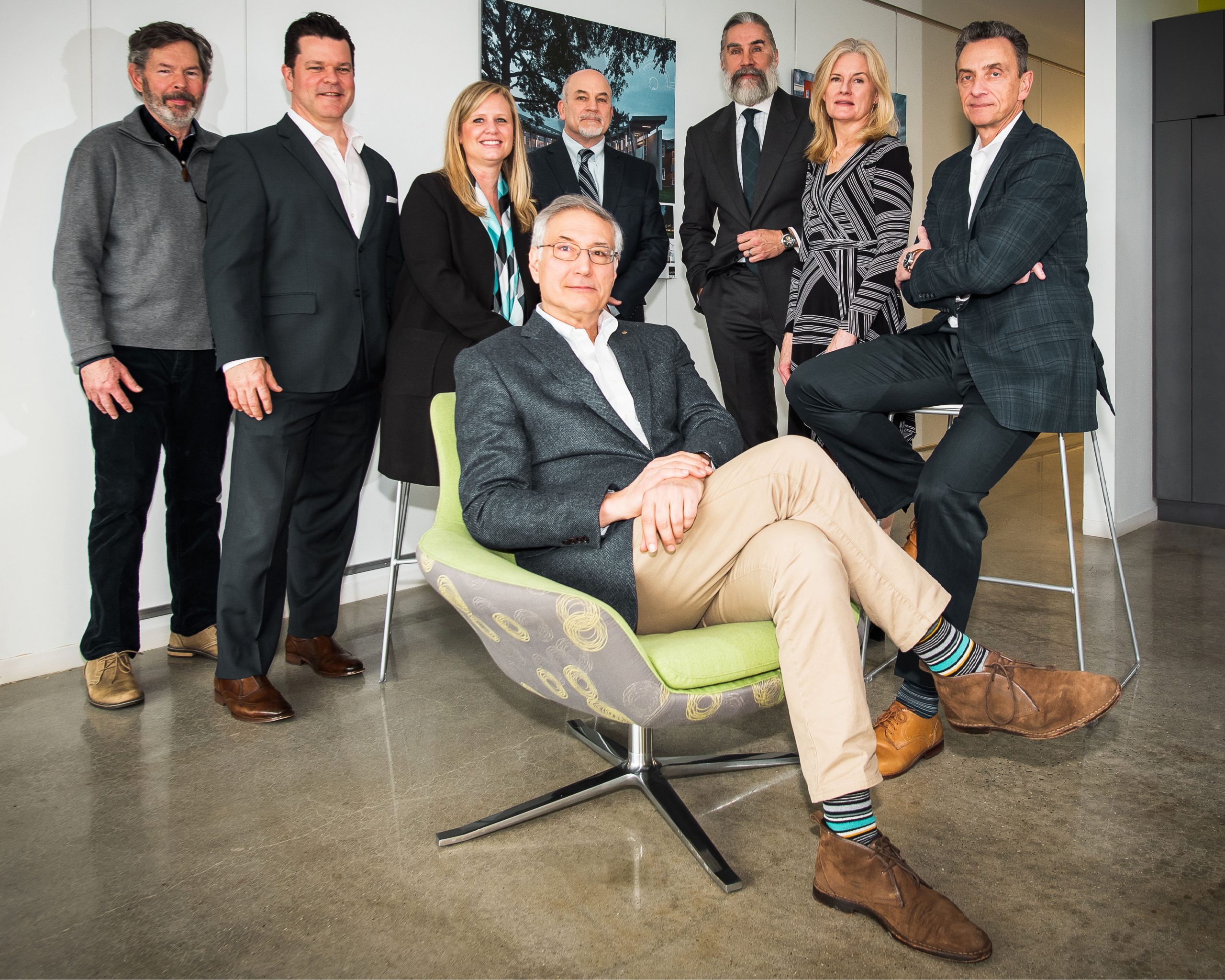 The entire Spiezle Senior Living Team (from left, back row) Jack Carman, Rich Quinn, Jill Di Clementi, Jim Lolli, Greg Berzinsky, Mary Berzinsky, Steve Leone, and Quinn deMenna (center)
Cornell University alum and seasoned senior living expert Quinn deMenna, AIA, has joined Spiezle Architectural Group, Inc. as a senior project manager. deMenna joins Spiezle with more than 30 years' experience in the senior living industry throughout the tri-state area and as far reaching as Japan.
deMenna spent the last decade working for City Invincible in Camden, NJ, which was recently acquired by Spiezle, an award-winning, full-service architectural, interior design, and planning firm with offices throughout the northeast. The new partnership enhances Spiezle's current team of senior living experts, which now boasts more than 100 years of combined expertise.
deMenna's passion for designing living spaces for seniors started early on in his career. "Watching my parents and family friends struggle in their surroundings, I had a strong desire to create environments that enhance the quality of life for the elderly," said deMenna.
He noted that when he began his career as a project architect in Philadelphia, PA, there weren't many advocates for seniors in the design field. "The industry has really evolved, and I'm proud to be part of that change," he said. "Today designers focus on more intimate, home-like environments, rather than the hospital-like institutional models that used to be the standard."
Among his many projects are White Horse Village, Fellowship Village Continuing Care Retirement Community, and Crane's Mill Continuing Care Retirement Community.
A recognized expert in senior living, he has been a featured speaker at numerous national and regional conferences and industry events throughout his career. He is often called upon for his expertise in creating supportive environments for seniors.
"I've been out there in the industry for many years, advocating for changes in senior living design and taking on leadership roles to make those changes official," said deMenna, adding that he is the inventor of a sink patent that has redefined bathroom safety and comfort.
deMenna currently serves on the Facilities Guidelines Institute (FGI) Healthcare Guidelines Revision Committee, reviewing and voting on new guidelines for healthcare design across the senior living spectrum.
His other professional memberships include the American Institute of Architects (AIA), the AIA Design for Aging Advisory Group, and the AIA Design for Aging ADA Task Force. Also an advocate for his community, deMenna is in his second year as a member of the ACE Mentor Program of Greater Philadelphia, an organization that mentors high school students by teaching them about the career opportunities available in architecture, engineering and construction.
Steve Leone, principal of the healthcare and senior living market at Spiezle, has known deMenna professionally for more than 15 years. "I'm excited to welcome Quinn to Spiezle's senior living team," he said. "With his depth of experience in the senior living industry, Spiezle and its clients will benefit greatly from his valuable perspective."
deMenna said he is also thrilled to now be able to collaborate alongside Leone, rather than view him as a competitor. "The results that will come from us working together will be so much greater than what either of us could have accomplished alone," he said.
Quinn joins a seasoned senior living team at Spiezle, which also includes Rich Quinn, associate principal; Jill Di Clementi, director of interior design; Greg Berzinsky, associate design; Mary Berzinsky,associate interiors; Jim Lolli, senior project manager; and Jack Carman, director of landscape architecture.
"Adding Quinn to our senior living team and recently acquiring City Invincible are both part of our strategic plan to expand our team and the tailored expertise we can offer our senior living clients," said Thomas S. Perrino, President and CEO of Spiezle. "This team will undoubtedly create environments that will take the standard for senior living to the next level."